The sound of hope for Kim
The sound of hope for Kim
From a very young age, Kim* and her two siblings, have been bounced around from shelter to shelter, as both of their parents passed away six years ago; it was not until April 24th, 2019, that they came to Casa Alianza Nicaragua.
 From the moment we opened our doors to them, we realised they were fighters; all three of them have lived with HIV, their entire life, and Kim, who is the eldest, is deaf mute. 
 Her medical history, along with her personal past of trauma and loss, have delayed Kim in her studies and personal development.
 However, with the aid of her dedicated counsellors, at Casa Alianza Nicaragua, Kim has been able to set life goals and to continue with her education; today, despite all odds, she is enrolled in 7th grade and is being prepared for independent living, as she will soon turn 18, and will be required to leave our shelter for assisted living.
 To help prepare Kim for the outside world, we were recently able to get a second medical opinion on her hearing loss and were given amazing news; Kim has the possibility of hearing again.
 The new audiometry testing revealed that although she has lost all hearing in her right ear, with the aid of an Emeral S80 8c hearing aid and therapy, Kim will be able to recover some of her hearing in her left ear.
 We believe that investing in Kim's hearing is of utmost importance, as it will truly help her integrate herself into society once she turns 18. We need your help now to pay for the hearing aid and therapy to help Kim hear again due to Covid 19 our funds are incredibly stretched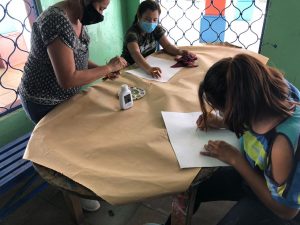 *Name changed/non specific pic
Please, click HERE to donate online
We also accept card donations via PayPal (no need to sign up).
Donating via PayPal on our website ensures that your funds will reach us within 2 hours of making your donation
Every single donation will make a huge difference.
Thank you.