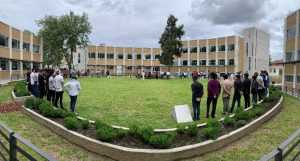 Casa Alianza Mexico's new residential building is open…
After many years in the making and a huge amount of hard work by Sofia Almazan, director, and the teams at Casa Alianza Mexico the new residential facility is open.
With all children and staff in one location it will enable the children to hugely benefit from services, a place of safety and a feeling of home to help build a successful, happy life.
Below are excerpts from the staff at Casa Alianza Mexico…
THE JOURNEY BEGINS
On July 28 it finally happened, after much anticipation and waiting: all children in residential care were moving to Casa Alianza's new facilities in Tepepan, an extraordinary place about to become their home
ON THE ROAD
It took less than an hour took us to arrive all together to Tepepan to our amazing new home. It was a short trip, but very meaningful and long waited for. There was a little bit of uncertainty, but everyone knew that something good was waiting at the end. Explaining every detail to the children was fundamental so they were prepared and happy for the move, because their cooperation to take mutual care was very important in this process to support each other.
FINALLY, AT HOME.
It was a new beginning for the children and for Casa Alianza. A few years ago, it was just a dream. A beautiful dream of a place with everything necessary to nurture the bodies and souls of children in need. Now it was becoming true, the beautiful building fulfilling its purpose, the transformation of lives.
"As soon as I arrived, I was pleasantly surprised with all the equipment that we would be working with. This place has optimal conditions to develop our activities: educative, health care, psychological therapies, and sports! As an employee, I feel very lucky being part of this institution and contribute to achieve the life goals of resident children."
-Daniela (Life Plan counsellor)
IT'S JUST THE BEGINNING…
Optimal conditions for implementation of Casa Alianza's comprehensive care model, housing up to 198 boys and girls at a time, guarantee a perennial benefit to children and society. Every life we change, every new opportunity, increases the chances of a better future, where the values of total acceptance and unconditional love guide our life in society.
Thank you for everyone who worked tirelessly to make this dream a reality.