Our  appeal is for the 'Safe Paths' programme in Mexico
Despite media reports, most Central American families have no desire to uproot their entire lives to illegally settle in the US with an uncertain future. Violence, political instability and corruption in their home country often means they are left with little choice.
The children at 'Safe Paths' shared with us different stories about their journey to Mexico and they all had a common thread.
"The choice was leave and survive or stay and risk being murdered, leaving was the hardest decision."
They are the bravest children I have ever met and with your help they can receive specialist services to build a life free from violence.  
Please help give a child hope today.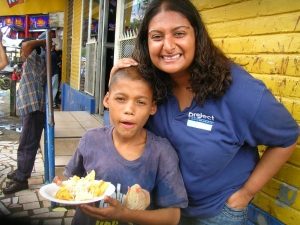 Can you give unaccompanied migrant children in Mexico a safe place to turn to?
No child should ever face the decision to leave their home, family and country because they fear for their life.  Even worse, no child should face this journey alone.
 As of June 2019, 56,278 unaccompanied children were detained at the Mexico-US border, having escaped persecution and violence in their home country (Migration Policy Institute, 27/06/19).
This is the tip of the iceberg, where other children have become 'lost' to kidnap, trafficking or murdered on their journey. These children arrive in Mexico with no family and no support, at their most vulnerable and at risk of sexual exploitation in order to survive.
The Safe Paths programme was developed with children, learning from their experiences and needs to provide a bespoke care package supported by a multidisciplinary team to help children on their arrival to Mexico.
Essential services include: vital health care and treatment, specialist post-traumatic counselling and therapy, legal assistance and aid to support children with making informed choices about their future, a safe home, education and recreational opportunities.
The safety and protection of the Safe Paths programme is a lifeline for unaccompanied children. Can you help provide this care by making a donation today?
Emilio is just one child we have helped thanks to your generosity. He was 14 years old when he left Honduras due to the violence and insecurity. He made the perilous journey into Mexico, where he began to use drugs as a means to cope and survive the physical and emotional abuse he endured. When we spoke to him about the impact of Safe Paths, he said:
"I've been doing really well since I arrived. At Casa Alianza, I've gotten a lot of support and I've attended the psychological therapy and drug detoxification programme." 
Emilio has been reflective on his progress and share with us:" For me, the most important thing is to speak with other people that help me to make better decisions and to create meaningful non-violent relationships. Thanks to Casa Alianza Mexico, I can start to dream of a strong future, to be independent, safe and to live a full, secure and happy life."
Please give more than just hope to these children and make a donation today. This year we are hoping to support 20 more children at Safe Paths, where it costs £1,600 to help one child for one year. Some examples are shown below..
£12         Pays for school enrolment fees.
£25         Covers transportation costs to attend counselling.
£44         Enables a child to maintain ties with their family.
£92         Covers health care costs.
£225       Covers legal costs to support one application for refugee status
Please donate what you can – thank you 
Can you help us provide these children with first response care
and treatment…? This comprehensive service includes:
• Access to legal recourse so we can support a child to navigate the complicated legal process;
• Post Traumatic Street (PTS) counselling to start to unravel the trauma they faced;
• Safe accommodation free from harm
• A chance to go to school and start over, building a safe new life free from violence
Times are extremely difficult, but whatever you are able to give – no matter how modest it may seem to you, it goes a long way and delivers tremendous impact and real change.

Unaccompanied migrant and street children arrive to Mexico City from wider Mexico and other Central American countries. Many of the children have left home due to violence, abuse and wider violations of their human rights and sadly are subject to further abuse and violence on the streets they are forced to beg, steal or sell their bodies in exchange for shelter or food. Casa Alianza can be their only hope.
 Children will have a safe place to live and access to multi-disciplinary services, to support their recovery and positive reintegration back into society, the opportunity to return to school, encouraged to make healthy decisions and will be supported through workshops to improve their self-confidence and their resilience to life's adversities. Through this intervention, children will be able to break the cycle of abuse and violence and with our support, build a bright future.