Dear Friends of Compass,
Our September appeal is for the 'Safe Paths' programme in Mexico – one that I have visited and that is close to my heart, where I felt privileged to meet the children first hand.
Despite media reports, most Central American families have no desire to uproot their entire lives to illegally settle in the US with an uncertain future. Violence, political instability and corruption in their home country often means they are left with little choice.
The children at 'Safe Paths' shared with me different stories about their journey to Mexico and they all had a common thread.
"The choice was leave and survive or stay and risk being murdered, leaving was the hardest decision."
They are the bravest children I have ever met and with your help they can receive specialist services to build a life free from violence.  
Please help give a child hope today.
With thanks, Poonam D'Cruze, Chair Trustees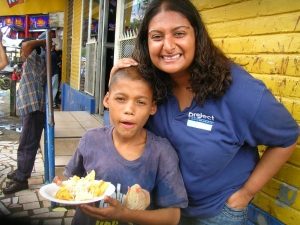 Can you give unaccompanied migrant children in Mexico a safe place to turn to?No child should ever face the decision to leave their home, family and country because they fear for their life.  Even worse, no child should face this journey alone.
 As of June 2019, 56,278 unaccompanied children were detained at the Mexico-US border, having escaped persecution and violence in their home country (Migration Policy Institute, 27/06/19).
This is the tip of the iceberg, where other children have become 'lost' to kidnap, trafficking or murdered on their journey. These children arrive in Mexico with no family and no support, at their most vulnerable and at risk of sexual exploitation in order to survive.
The Safe Paths programme was developed with children, learning from their experiences and needs to provide a bespoke care package supported by a multidisciplinary team to help children on their arrival to Mexico.
Essential services include: vital health care and treatment, specialist post-traumatic counselling and therapy, legal assistance and aid to support children with making informed choices about their future, a safe home, education and recreational opportunities.
The safety and protection of the Safe Paths programme is a lifeline for unaccompanied children. Can you help provide this care by making a donation today?
Emilio is just one child we have helped thanks to your generosity. He was 14 years old when he left Honduras due to the violence and insecurity. He made the perilous journey into Mexico, where he began to use drugs as a means to cope and survive the physical and emotional abuse he endured. When we spoke to him about the impact of Safe Paths, he said:
"I've been doing really well since I arrived. At Casa Alianza, I've gotten a lot of support and I've attended the psychological therapy and drug detoxification programme." 
Emilio has been reflective on his progress and share with us:" For me, the most important thing is to speak with other people that help me to make better decisions and to create meaningful non-violent relationships. Thanks to Casa Alianza Mexico, I can start to dream of a strong future, to be independent, safe and to live a full, secure and happy life."
We have raised £7,200 so far, anything you can give today would provide funding for a child who desperately needs your help.
Please give more than just hope to these children and make a donation today.This year we are hoping to support 20 more children at Safe Paths, where it costs £1,600 to help one child for one year. Some examples are shown below..
£12         Pays for school enrolment fees.
£25         Covers transportation costs to attend counselling.
£44         Enables a child to maintain ties with their family.
£92         Covers health care costs.
£225       Covers legal costs to support one application for refugee status
Please donate what you can – thank you