Donate your Birthday to charity.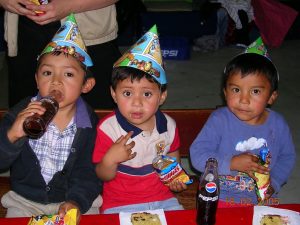 Donate your Birthday to charity.
Join our birthday gift scheme – Helping children to learn the meaning of giving
We love the idea shown below – in a society where children are overwhelmed and bombarded with commercialism from a very young age – what better idea than to learn to "give back" to those who are less fortunate than themselves.
Many of the street children we represent have never even had a safe home, let alone had their birthdays celebrated or had gifts or a party for their "special" day….
It would be amazing for them to understand that children here in the UK are thinking of them and want to include them in the celebration of their birthday by making the gesture and sending money to help.
We have a birthday fund for their donations – all funds collected will be sent to our project partners to buy children at the programme a special gift for their birthday and a cake and card.
Would you like to help us with this fund? – You can donate here to make a difference
All ages can join in this fundraising effort – children, grandchildren, and the "child" at heart members of our supporters
 This is how the scheme can work …..
In the current pandemic climate many children will not be having a birthday party so the scheme can be utilised to donate to our children the cost or part cost of the birthday party your child can't have this year – your donation can go towards providing medicine and PPE products during the Covid19 lockdown together with presents for our children
If you are still able to have a party …. Every child that is fortunate to have a birthday party can make a difference to those less fortunate by following the guidelines below:
The Birthday child requests no presents at their party, but a voluntary cash donation.
Cash proceeds are then divided, birthday child buys one desired present for him/herself with half the funds.
The remainder is donated to Compass Children's Charity for our children in Mexico, Guatemala, Honduras and Nicaragua
The birthday donations could be collected and sent to us cumulatively if more than one child in a friendship group takes part
This gives children the opportunity to help save and improve other children's lives and cuts down on unwanted gifts and waste – a win win situation for us all
Donate your Birthday to charity.
 Do you want to do something AMAZING for your next Birthday?
You can use your special Day to transform the lives of vulnerable Children and "give back" to those less fortunate than ourselves.
Many of the Children we support have never had birthday parties or received birthday presents.
Your AMAZING generosity could help buy
Medicine/ PPE,
Counselling Sessions
School Fees
Sports Equipment
Beds/ Bedding
How does this work?
You make the AMAZING decision to support our vulnerable children.
Tell your friends and family know that you would like them to support your AMAZING cause too.
You can collect funds yourself and donate directly to Compass Children's Charity.
Or you can set up a Facebook giving page.
(just select Non Profit and type in Compass Children's Charity)
Or use our Just Giving website.
And finally Know that what your doing is AMAZING and that your decision will make a huge difference to our children
 For your Birthday Giving Information Pack contact us at contact@compasschildrenscharity.org.uk        
Using the subject line AMAZING