Christmas Appeal 2019 – please donate today
Christmas Appeal 2019 – please donate today
Dear friends,
Your support gives a homeless child a memorable Christmas filled with hope. Our Latin American sites are working with increasing numbers of child trafficking survivors and unaccompanied migrant children who have fled violence and persecution, leaving behind their home and country. Christmas is filled with an overwhelming sense of family loss, uncertainty and loneliness.
Please read on to see how the gift of a simple pair of shoes to a child that has nothing can be powerful beyond measure.
Anything you can give at Christmas will make a huge difference.
Our children remember you with love and affection and, with us, thank you for all your generosity and unconditional support.On behalf of the children, Sue, the board of trustees and myself, we wish you a happy and peaceful Christmas and a prosperous new year.
Poonam, Chair of Trustees
Christmas last year …..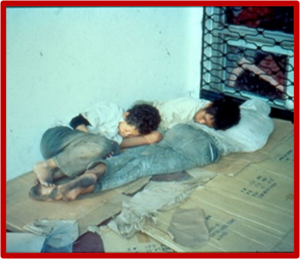 The power of magic shoes…
My name is Hector, when I was living on the streets, I had shoes… well they were flip flops really and all I had when I left home. The day they broke, I had nothing. I would walk barefoot in the rain, sharp pebbles would cut my feet, sometimes I would step in glass, sewerage or worse. I have the scars to prove it.
I got a pair of shoes for Christmas last year.. Someone here knew I needed shoes. They knew blue was my favourite colour and chose them especially for me. They cared about me. When I was at home, Father Christmas never visited me. My step father told me I was bad. I knew I must have been bad because he would hit me with his belt when he would drink. I didn't want to leave home. I love my mum but she couldn't help me and I was in pain and always hurt.
Someone at Casa Alianza spoke with Father Christmas. They told him he made a mistake and that I was good. I've never been told that.
It must be true because father Christmas came and also bought me another present of a new book. I love it. I feel special here. For the first time in my life, I got a present and pair of shoes… Just for me for Christmas.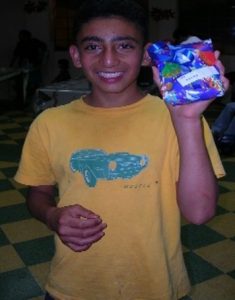 "In Casa Alianza they help you….They work out all of the resentment you have inside. They understand. I don't think about leaving anymore, I  feel safe, I know I can stay here … I want to study and learn to read better, learn a profession and have a better life ."
£ 10      Special shoes for a child with none
£ 25        Christmas dinner for 5 children
 £ 48     "Magic beans" to pay for children's school fees to "plant" their future
£ 50        A Christmas Gift for 5 children
£ 107      The best gift of all – the right to a birth certificate and identity like any other child 
When you have nothing, the gift of shoes can be transformative and knowing you matter and are cared for is priceless.
This year our appeal is to make sure every child we work with receives the gift of hope – one who's value is beyond measure.
Can you add a child from Casa Alianza to your shopping list? Your donation will transform the lives of children who depend on you. Anything you can give, no matter how small, can go a long way.
Please let a child know they can count on you to be there for them at this special time of year and donate now