Casa Alianza Honduras director is given the Mexican Ohtli award
Casa Alianza Honduras director is given the Mexican Ohtli award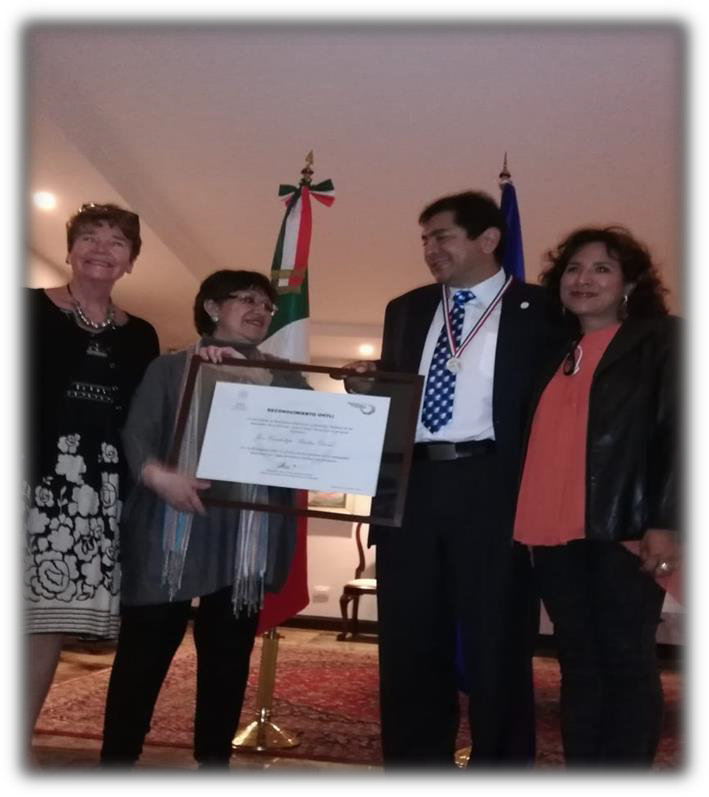 The children and staff of Casa Alianza de Honduras deeply thank the government and people of Mexico for the "Ohtli" recognition given to the director of the Institution José Guadalupe Ruelas in a significant and emotional ceremony held at Casa Mexicana.
"Ohtli" is the highest recognition granted by the Mexican government to members of the Mexican community or to people who have dedicated most of their life and professional activity to open a gap abroad, so that younger generations of Mexicans and Mexicans who have followed them, find a relatively easier way to walk.
The ambassador of the United Mexican States Dolores Jiménez highlighted the work done by José Guadalupe Ruelas, whom he described as a humanist and a person who dedicates his best efforts and knowledge to the children of both countries.
At the same time, the winner thanked on behalf of the children and staff of Casa Alianza de Honduras, the people and government of Mexico for this maximum recognition and reiterated that their commitment is in the Nahuatl word of origin, Ohtli, "to walk straight".
The moment of recognition was opportune to thank the cooperation and the donors, that thanks to them Casa Alianza de Honduras can fulfill its mission in favor of the country's children in extreme vulnerability.
This maximum recognition consists of a silver medal, representing an Aztec God cutting grass with a machete, symbolism that alludes to the idea of ??opening a path for others, a rosette and a diploma.
Tegucigalpa November 21, 2018
Las y los niños y el personal de Casa Alianza de Honduras agradecen profundamente al gobierno y pueblo de México por el reconocimiento "Ohtli" otorgado al director de la Institución José Guadalupe Ruelas en un significativo y emotivo acto realizado en Casa Mexicana.
"Ohtli" es el máximo reconocimiento que otorga el gobierno de México a miembros de la comunidad Mexicana o a personas que han dedicado la mayor parte de su vida y actividad profesional a abrir brecha en el extranjero, para que las generaciones más jóvenes de mexicanos y mexicanas que los han seguido, encuentren un camino relativamente más fácil de andar.
La embajadora de los Estados Unidos Mexicanos Dolores Jiménez resaltó el trabajo realizado por José Guadalupe Ruelas, a quien calificó como un humanista y una persona que dedica sus mejores esfuerzos y sus conocimientos a la niñez de ambos países.
A su vez el galardonado agradeció en nombre de la niñez y del personal de Casa Alianza de Honduras, al pueblo y gobierno México por este máximo reconocimiento y reiteró que su compromiso se encuentra en la palabra de origen náhuatl, Ohtli, "caminar recto".
El momento del reconocimiento fue oportuno para agradecer a la cooperación y a los donantes, que gracias a ellos Casa Alianza de Honduras puede cumplir su misión a favor de la niñez del país en extrema vulnerabilidad.
Este máximo reconocimiento consiste en una medalla de plata, que representa a un Dios Azteca cortando pasto con un machete, simbolismo que alude a la idea de abrir un camino para otros, una roseta y un diploma.
Tegucigalpa 21 de noviembre del 2018