Casa Alianza Nicaragua & Compass children's charity win share of ABRSM fund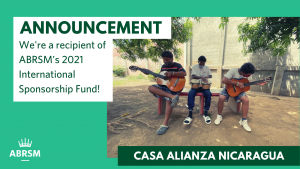 Casa Alianza Nicaragua & Compass children's charity win share of ABRSM fund
Casa Alianza Nicaragua in partnership with Compass Children's Charity has won a share in  ABRSM funding to help break down barriers to musical progression, with a focus on musical tuition, music employment, social inclusion and wellbeing.
Compass Children's Charity and Casa Alianza Nicaragua. Compass Children's Charity fund projects in Latin America & Mexico that are meaningful and have a positive impact for at-risk, migrant & street connected children globally. They advocate for at-risk children, asking governments to provide protection, services and justice to children who are voiceless. The ABRSM International Sponsorship Fund is supporting the Casa Alianza Nicaragua's music project that proactively engages children in music workshops designed to support their emotional development, the development of new skills as well as supporting them through  detoxification process to prevent relapses and , allow them to be children, enjoy being able to play, grow and learn. It supports children to begin to repair damage caused to motor skills through prolonged solvent abuse on the streets. Director Iraíz Castillo said: "We believe in the development of the whole child. Music is vital in the development of interpersonal skills, physical and psychological wellbeing and provides a creative outlet for the children."
ABRSM Chief Executive Chris Cobb said: "As a global music education organisation we are committed to helping break down barriers to music in all corners of the world.
"The ISF provides modest funding for grass roots projects carefully selected for the impact that they can have on the musical progression of local people by breaking down barriers to learning."
The ISF was set up by ABRSM in 2012. It has so far helped more than 40 different organisations across Africa, Asia, Australia and New Zealand, Latin America and the Caribbean by helping buy and repair instruments, train teachers and support education projects using music to motivate and support musicians of all ages.
Thank you to all involved in the application and implementation of the project – it will be of huge benefit to our children.