Appeal for help – From despair to Hope. This is the story of "Lucia" – just one of the many young girls saved by Casa Alianza Honduras.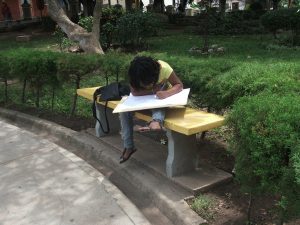 Abandoned by her mother when she was 12.
Violently and sexually abused by her uncle, with whom she was forced to live.
Trafficked to Mexico at the age of 13.
Taken out of school and denied access to education.
Eventually repatriated with her mother in Mexico.
Only to be forced into prostitution and child pornography by her own mum. The person who should have protected her.
Lucia resorted to self-harm and drugs to ease her pain and block out the fear.
In the depths of her despair & fear, Lucia made plans to end her life
Referred to Casa Alianza by a concerned cousin
At Casa Alianza Honduras Lucia is receiving care, treatment, protection & an education.
After two years at Casa Alianza Honduras :
Lucia
Lucia no longer self-harms, she has greater control of her impulses and emotions.
She has improved her interpersonal relationships, but it is a long slow process from which she may never fully recover.
Lucia has been enrolled in the eighth grade at school where she is working hard to catch up on her education.
She participates in the different workshops and activities at Casa Alianza, which help empower children to protect themselves from future abuse.
Lucia has developed a keen interest in art therapy classes where she is able to freely express her thoughts and feelings
She dreams of being an interior designer when she leaves school.
Casa Alianza Honduras
The Casa Alianza legal team filed a complaint for the crime of Commercial Sexual Exploitation and Child Pornography. The case is currently under investigation.
Together with INTERPOL and immigration officials, CAH has located and rescued Lucia's 3 underage brothers, who were still with their mother in Mexico. Identification documents and an application have been submitted for the restitution of Lucia's fundamental rights as a Honduran citizen to receive health and education services.
An educational plan has been made together with starting an independent life plan for the future.
Lucia has needed psychiatric and psychological counselling to overcome severe post-traumatic stress, self-harm, drug use and behavioural problems.
Lucia needed legal support to bring her abusers to justice and to reinstate her citizenship. CAH has provided Lucia with shelter, food, and education.
All of this comes at a high cost, but we strive to ensure all Casa Alianza's children can benefit from this amazing level of support.
Your donation can save more children like Lucia.
To help us provide care, treatment, and a place of safety for more children like Lucia.
We are happy to receive donations of any size, one off or regular gifts, at any time, to help the children we protect.  
Donations through our website and PayPal reach us within 2 hours so this is the quickest way to get your help to our children
Thank you for taking the time to read our appeal and for helping to care for children like Lucia.
Sue & Trustees – Mark (chair), Sheila, Alice, Raquel, Toluwanimi and Helen.