A catch-up from the Christmas festivities' at the projects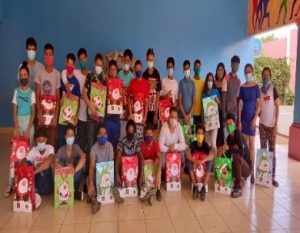 A catch-up from the Christmas festivities' at the projects:
Thank you so much for your generosity from all of our children, staff and trustees.
                                                Casa Alianza México
2020 was a difficult year for everyone. The COVID-19 pandemic has seen us all live our lives in uncertainty and fear. For Casa Alianza México it has represented a huge challenge but with one single goal: to keep the children under our care safe. Thanks to your donations the holiday season of 2020 was full of joy and hope. The celebrations brought the children the happiness of new clothes & toys making them feel special and loved – like every child should.
On Boxing day, it was time to break some piñatas. It was good to see the children running and laughing trying to catch the candy and having carefree fun for just a little while. These children have overcome so many difficulties in their short lives but show such resilience and bring hope for the years to come. Thank you from all of our children for giving them joy in such challenging times.
                                              Día de Reyes (6th January) Casa Alianza México
This is a very joyful celebration for children, inspired by the 3 kings from far away who visit to bring symbolic presents. It's an old tradition and the celebration has become as important as Christmas itself. It is a day where all the children receive presents: toys, clothes, candy. The celebration is one of the happiest moments of the year for the children. Preparations start two months before: the children write a letter to the 3 kings, asking for something they want with all their heart. Your donations help bring this joy to the children.
All presents come with a message of hope and the warm feelings of those who really care for them, even if they are far away.  The night before Día de Reyes, every child puts a shoe near the Christmas tree; the next morning they go to look for their presents in that particular place. The children join together having a day full of joy with their presents and share a very special celebration sweet bread called the "Rosca de Reyes", which is only prepared at this time of year. Inside is a small plastic doll hidden inside the Rosca, which is said to bring extra luck and happiness to the child who finds it.
Casa Alianza Nicaragua
Thank you for your love and support in 2020. We hope to share more memories with you in 2021.
This Christmas brought us a new-found source of hope, gratitude, and reflection. Our staff and children were deeply moved by the generosity shown by our friends and donors, not only during the holidays but throughout 2020. Thanks to your help we have been able to activate emergency protocols that allowed us to care for our children and staff in times of uncertainty and despair. The COVID-19 pandemic, accompanied by two back-to-back hurricanes, ETA and IOTA, exacerbated the already precarious economic and social situation in Nicaragua. The pandemic highlighted Long-standing social inequalities, including a continuous erosion of human rights, colossal unemployment, gender-based violence, and substance abuse among our children and communities. However, 2020 reassured us that if we work together, we can surpass anything. Despite all of last year's challenges we will continue to help empower at-risk children and the communities we serve. Thanks to your donations we were able to shelter in place and prevent our children falling ill. While many of us mourned lockdown, many of our children were thankful for it; lockdown at Casa Alianza meant they were safe, had a roof over their head, and food on their plates. A sad indictment of the lives of the children who come to us for help. Our children come from diverse backgrounds and situations, such as homelessness, poverty, and abuse. Many have never received a gift on Christmas day or experienced holiday cheer.
"I had never had new clothes; my family has never been able to buy me a new outfit. I always received hand-me-downs, that never quite fit and/or looked right. This gift made me feel special. It's nice to know that someone out there wanted to share their blessings with me. I am very grateful." Juan, 12
Casa Alianza Honduras
The children celebrated Christmas thankful for your donations and support during such a hard year. On Christmas night, the children had dinner together, with Christmas decorations they had made themselves on display, gathered to tell stories, sang Christmas carols, and gave thanks.            Among tears, laughter, games, and delicious food they remembered moments of anxiety when they could not see their families due to lockdown and the moments of discouragement when they thought they would not be able to pass their school year. They highlighted the support of their educators and psychologists who accompanied them throughout, ending the year with hope for the new year to come. The children are grateful for the protection they have felt from CAH and the opportunities for development and care in 2021. The children, together with their psychologists, are already implementing their life plans for 2021, setting achievable goals and dreaming of everything    they can achieve if they set their minds to it.
The COVID-19 pandemic has deepened the obstacles faced by children and young people who are at risk or are survivors of violence. The resilience training, they have received has helped them to continue dreaming even in the midst of difficulty. The children send their thanks for your love and support over the past year and hope you will be able to support them in 2021
                                            La Alianza Guatemala
The girls at La Alianza enjoyed Christmas this year with many activities to help make the season joyful even though still in lockdown due to the pandemic. Below are some of the activities they enjoyed.
Christmas crafts –The girls prepared all the decorations, made posters, cards and decorated Christmas trees in each room.  Like every year, they made a nativity scene. All very colourful and inventive.
Sleepover – This was just getting together to sleep in the residential dining room, and not each one in their cabin as they always do. So they could talk, play and have a fun. Just a change to their routine like children the world over.
Crazy hairstyles and catwalk – The girls organised a hairstyling show and made recycled dresses, showing these off on a catwalk. There was a jury to award the winners a small prize.
Picnic night – An outdoor activity, where we watched christmas films and shared a late-night snack.
Visit to Christmas sites in the city – The girls took a tour to see the lights and decorated trees of Guatemala City.
Campfire – On another night we sat by the fire in the courtyard of the residence. toasting marshmallows and having fun.
Christmas Eve and Christmas celebration
The girls shared different activities all day: a visit from Santa Claus who gave gifts to all. They broke piñatas in the afternoon and then had a special dinner with leg of pork, which is our tradition. In the evening they had games and danced.
New Year's celebration, gala night – We had a special meal, followed by games, singing, dancing and piñatas. There was an ice cream party with donated fruit, cookies, sweets, marshmallows, and delicious ice creams, with the girls creating individual dishes. They enjoyed them a lot because it allowed them to develop their creativity and have fun.
Thank you for your love & support from the staff and girls at La Alianza, Guatemala