Fundraising ideas for the trip of a lifetime or out of this world walks -Charity Fundraising Challenges
Trek, bike, climb, raft, ride, sledge, ski, build…Push yourself to your limits, achieve an incredible personal goal
and support Compass Children's Charity.
Whether you're looking for glacier capped mountains in the Andes, active volcano's in Indonesia, mountain biking through the wilds of Iceland, or the thrill of white water rafting the Zambezi River, Charity Challenge will have something to inspire you!
We have signed up with Charity Challenge to give you the opportunity to take part in amazing, life enhancing challenges while raising funds for Compass Children's Charity and street and at risk children.
Charity Challenge have a huge variety of organised challenges all over the World and here in the UK – whatever dream trip and challenge you would like to set yourself you are sure to find it on their website.
From a dog sledding challenge in Lapland to the Great Wall of China discovery trip to a London to Paris cycle trip to a 5 peaks climb challenge in the Lake district ..
The only limitation is your imagination and desire to take part….
How it works:
Take a look at all the opportunities listed
choose us as your nominated charity and follow the steps to sign up for your trip of a lifetime.
We can only authorise fundraisers who are totally self-funded for any of the challenges listed.
Take a look now and start planning that dream trip and fundraising opportunity – we would be very thrilled and grateful for your support
Thank you
Dust off your walking shoes, get fit and raise funds for street kids with a Charity Challenge walk
In addition to all the physical and mental benefits that walking offers, it is also a fantastic way to experience the great outdoors and create incredible memories that can last a lifetime. Whether it's hiking around the hills on your own doorstep in the UK, or trekking in mountains of Nepal, Charity Challenge have a huge variety of treks available for you to take part in and raise funds for us.
It's estimated that more than 35 million people take part in a hiking activity each year in the UK,  a popular challenge this summer is the National 3 Peaks or the Lakes 5 Peaks),
So, dust off your walking shoes, get fit and raise funds for street kids
Other great walks and ideas:
Whether you're looking for coastal strolls or fearsome scrambles, or mountainous peaks or historic trails, you don't need to look far to find some breathtaking hikes.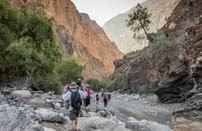 National 3 Peaks open challenge
Considered one of Britain's toughest outdoor challenges, the National 3 Peaks Challenge takes in Ben Nevis (1,344m), Scafell Pike (978m) and Snowdon (1,085m). Due to a huge increase in popularity, we had added an extra open date on 1-3 September 2017.
Recently voted the 4th safest country in the world, the new Oman Mountain Trek is a spectacular challenge through the 'Fjords of Arabia'. Only seven days in duration, this demanding challenge is ideal for experienced trekkers and those looking for something truly unique and adventurous.
Mountain expert, Dave Sculthorpe, has compiled his top tips for taking on your next trekking challenge. Charity Challenge expeditions are suitable for complete beginners through to the most experienced of hikers, and Dave shares his advice for everyone.
Dalai Lama Himalayan Trek: EXTRA DATES ADDED
Due to high demand, Charity Challenge have added extra dates for the popular Dalai Lama Himalayan Trek . This cultural trek combines spectacular Himalayan walking with visits to some of India's exiled Tibetan community. Most popular amongst women aged 40-55, this expedition could be the ideal trip if you're wishing to take part in something truly unforgettable.